GN high-energy cone crusher, as the latest crusher, has advantage of improving the production capacity of the crusher under the condition of without increasing equipment specification. It adopts more compact, portable and economical crushing equipment than other cone crushers in technological development. Our company designs high-energy cone crusher suitable for crushing hard rocks through the structural update of main components under the premise of no unnecessary equipment weight. The crusher has adjustable crushing granularity from coarseness to fineness, and its production capacity is a grade larger than cone crusher with the same specification.
 Non-contact parts in the equipment adopt protective labyrinth seal to prevent dust and pollutant from entering. The product has functions of hydraulic lock and hydraulic adjustment, excess iron release and cavity cleaning. The matched hydraulic system and lubrication system protect safe and normal operation of equipment, and especially hydraulic system can push the cylinder to adjust the size of ore discharge port to control discharging granularity and output, and doesn't need any hoisting equipment or manual method for rotary adjustment.
 
 Specifications
  
 

 
  
 Performance Parameter Table 1
  
    No.

Name

GNB-1021

GND-1005

1

Big end diameter of crushing cone mm

1036

1036

2

Feed port size mm

215

54

3

Maximum size of feeding block mm

185

45

4

Ore discharge port adjustment range mm

25-38

6-16

5

Output t/h

230-300

80-180

6

Motor

Model

Y355M-4

Power kW

220

Rotating speed r/min

1490

Voltage V

380

7

Machine weight t

18.2

8

Overall dimensions mm

2350X2200X2100

9

Lubrication station l/min

125

10

Hydraulic oil station MPa

14

 Performance Parameter Table 2
  
Equipment type
     \Accumulated yield
     \Granularity

Granularity mm

Below 25

Below 20

Below 14

Below 10

Below 6

Below 2.5

Below 0.9

Below 0.56

Below 0.15

Below 0.1

Below 0.074

GND-1005

100%

94.4%

86.2%

70%

51.1%

32.9%27.2

27.2%

23.5%

14%

9.7%

8.5%

 Performance Parameter Table 2
  

     Equipment type
     \Production index

Equipment output
     t/h

Ore discharge port
     adjustment size
     mm

Discharging
     granularity
     mm

GND-1005

115

11

25以下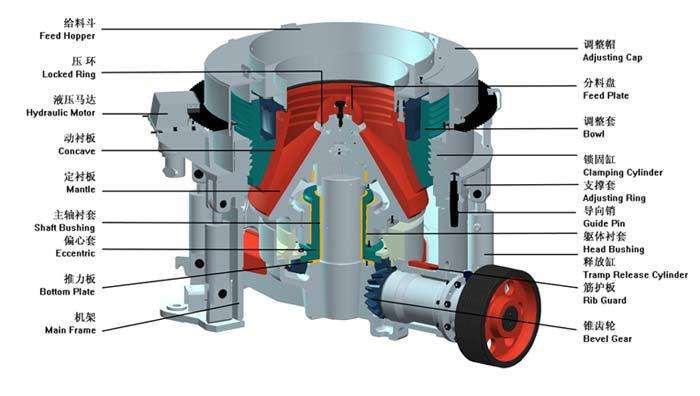 Brief description about GN high-energy cone crusher
 Cone crusher is suitable to crush various kinds of ores and rocks of medium or above medium hardness, and cone crusher is of stable structure, high efficiency, easy adjustment, and use economically, etc. The spring safety system of crusher acts as an overloading protection system that allows metals to pass through the crushing chamber so as not to damage the cone crusher. The safety system uses diluted oil and water as two kinds of sealed formation to make plaster powder and engine oil separated . The type of crushing chamber depends upon the size of feeding and fineness of the crushed product. The standard type(PYB) is applied to medium crushing, the medium type is applied to medium or fine crushing and the short head type is applied to fine crushing.
 
 Features Of GN high-energy cone crusher: 
 1. Laminating crushing.
 2. Well-proportioned particle size.
 3. Superior crushing capacity.
 4. Successive stable operation.
 5. High production capacity (2 times than previous crusher)
 6. Adoption of straight metallic contact, which make the replacement of active and fixed cone liners more fast and easy.
 7. High efficiency revolving input unit make liners wear evenly.
 8. Sweeping system keep its interior tidy.
 9. Wide angle star jib make the entry of material more smooth.
 10. Automatic overload protection system which prevent from interfusion of iron material.
 11. Screw bevel gear system with mute operated. 
Our Services:
Pre-sale services: enthusiasm 

 We provide you with the process plan, process flow design and manufacturer equipment according to your special demand.
  Sale services: servant
 Send technicians to the job site for guiding the installation and adjustment, training operators and finishing the check and accept together with you.
 After-sale services: faithfulness 

 To establish long term friendship, we will regularly pay return visit to customers.
 In addition, we provide one-year warranty to make sure your machine runs consistently. We always keep certain inventory level of spare parts, which means the replacements can be shipped to you right away.
http://www.eohic.com/